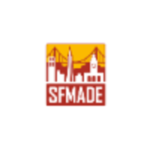 Overview
Sectors Nonprofit Organization Management

Posted Jobs 0

Viewed 225
Company Description
SFMade is a California 501(c)(3) non-profit corporation, established in 2010 and headquartered in San Francisco that supports the local manufacturing sector to create jobs and career pathways for local residents who have overcome barriers to employment. Our services connect low-income job seekers to employment and training opportunities; provide local manufacturers with educational resources and tailored, one-on-one services; and help policymakers create the conditions for home-grown manufacturers to thrive.
In each year since SFMade was founded in 2010, San Francisco has seen more than 10% annual growth in manufacturing jobs.
Our impact:
• SFMade serves 600+ companies.
• SFMade's San Francisco-based members constitute 95% of the city's manufacturing firms.
• SFMade provides more than 450 individual business advising sessions each year on topics ranging from real estate searches to helping companies hire from the local workforce.
• SFMade has introduced more than 1,250 youth to careers in manufacturing through paid summer internships and a high school career exposure program.
SFMade's proprietary research shows that:
• 85% of San Francisco's manufacturers started after SFMade was founded in 2010, and the sector has added jobs at a rate of over 10% each year during this period
• These companies are responsible for creating more than 4,900 manufacturing jobs in the city
o 55% of the jobs are held by women
o 55% of the jobs are held by people of color
o Over 50% of the jobs are entry level
o Over 75% of the jobs are held by individuals who were low income at time of hire
At the heart of our work is the belief that an economy that prioritizes the workers, entrepreneurs, and manufacturers will lead to a more vibrant, equitable, and resilient City and region.