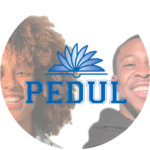 Overview
Sectors Educational Institution

Posted Jobs 0

Viewed 340
Company Description
PeduL is the one-stop shop for scholarships. We make it easy for anyone to create, find, and apply to scholarships.
The idea for PeduL all began with an honest conversation between two college students. Chisa Egbelu was starting his sophomore year at Rutgers University. His friend from freshman year had transferred out to pursue a music degree at his dream school, and the two had said their goodbyes.
But, to Chisa's surprise, his friend was back at Rutgers for the start of the semester. Financial aid couldn't cover the higher tuition and the dream was cast aside, a story all too familiar for a generation graduating with the most student loan debt in history.
Frustrated and defeated, his friend mentioned something in passing that sparked a fire in Chisa: "Why can't there be something like Kickstarter for school tuition?"
And that's how PeduL began. Chisa joined forces with Kayla Jackson in January 2016 after taking several classes together at Rutgers University. The two became a power team, utilizing their respective experiences pursuing several successful small businesses, interning at major corporations like the Golf Channel, NBC and Google, and serving as an ambassador for The First Tee and The Walt Disney Company.
After launching their crowdfunding platform to the world in January 2018, the power-duo learned quickly just how elitist crowdfunding because it always assumed that students have access to a network with money. They went back to the drawing board and came up with their universal application for scholarships where students can apply to thousands of local and national scholarships at one time through one application.
PeduL's mission is to ensure that all students have equal access to academic and professional opportunities. And it's our thesis that people, including but not limited to, corporations and organizations, believe investing resources into society, especially our youth, will create a more sustainable and prosperous world. So, are you willing to help us prove it?