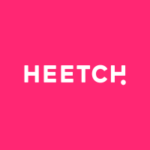 Overview
Company Description
Heetch is ride-sharing app and a tech Start-up (B2C marketplace platform) based in Paris.
Founded in 2013, we have become one of the 3 key players in urban mobility in France.
Our mission? Put conviviality and proximity at the heart of our product. At Heetch we build a friendly app to make mobility more accessible and turn tech into human solution.
A few fundraisers later*, we are more than +270 people around the world 🌍, present in Paris, but also in Lyon, and big cities in France . We also started our development beyond our borders with Belgium and sub-Saharan Africa!
*We are backed by €54 million raised from renowned investors and is part of the #FrenchTech120🦄
As we are growing really fast 🚀, we have a lot of open job opportunities.
So 
if you are looking for a company with a strong culture and amazing values, have a look at our website and check the link below! ⬇️
We hire amazing people: engineers, sales, product, customer service, design, marketing… contact us!
We are always looking for talented people to join us 🌟